Why It's Important to Partner With a United States Turf Manufacturer on Your New Field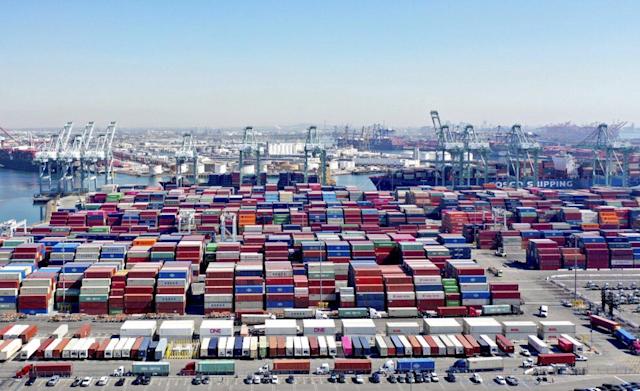 You've been seeing it all over the news recently, masses of container ships are waiting outside of ports around the United States waiting to deliver products. These thriving ports and the warehousing and trucking that support them have recently become a bottleneck in the global supply chain. Pre-Covid it was not common for container ships to wait in harbors before they were able to dock and offload their cargo. Currently at the Port of Los Angeles, CA the expected wait time to "make port" is about 12 to 14 days, with close to a quarter-million containers filled with goods sitting on ships. These import bottlenecks are resulting in scarcity of products, increased lead times and higher prices. In the construction industry, this means that projects and contractors reliant on imported supplies are seeing significant project delays and cost increases.
Here is a great article that discusses why the supply chain issues we're currently facing could get worse. (source: CNN Business)
Supply Chain Shortages: Why is there a shortage? What is the impact?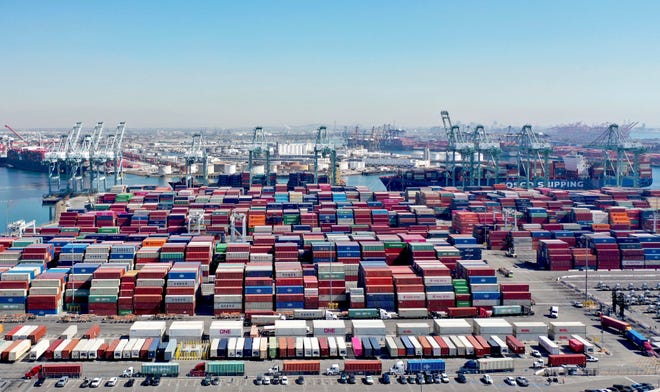 The Wall Street Journal Illustrates the Current Sypply Chain Issues Facing the United States
In times like this the supply chain is a significant project risk and owners should be aware of and attempt to mitigate by insuring a 100% U.S. supply chain of all raw materials and finished components. Relying on an import based supply chain opens up your project to significant delays and cost increases There are multiple turf installation companies that source their synthetic turf and materials from overseas and leave your project susceptible to delays in completion. By choosing to work with a 100% United States based turf manufacturer, you eliminate supply chain issues as a project risk. One way to limit that risk is to include verbiage in your project solicitation that specifically states the turf required for the project must be manufactured in the United States, for example:
"Manufacturer: The Turf Vendor must be a United States Turf Manufacturer and make its own slit film AND monofilament turf fibers and finished turf systems "in-house" at its own manufacturing facilities, and these facilities MUST be located in the United States. The Turf Vendor must install this type of artificial turf system with its own in-house installation crews, and provide project references of the synthetic grass system being installed with its own installation crews at 300 similar exterior sites in the United States over the last 5 years, a minimum of 65,000 square feet each."
Incomplete Project Awaiting Turf
Not only are the quality, consumer and safety standards stricter in the United States, but now its taking significantly longer to import turf components like yarn fibers for turf manufacturing or finished turf products. Many of supply chain issues have pushed back completion dates of turf fields by weeks and sometimes even Months! When your project installation date is reliant on imported turf, you are unable to manage schedule risk to your project. By partnering with a company that is a United States Turf Manufacturer, you will have the ability to reduce the impact of supply chain issues.
Recently a project at Drake Field located in Sioux Falls, SD experienced this exact issue first hand with a multi-month project delay and no firm start date in sight. Nathan Powell, The director of Parks and Recreation had this to say,
"The company that was chosen to install the artificial turf at Drake Field, Mid-America Sports Construction, couldn't get artificial turf this year as initially expected. Despite the uncertainty of when the contractor will get the turf to install, Powell anticipates it will arrive for crews to complete the roughly $410,000 project by the spring." (source: Yahoo 8/24/2021)
The Sports Complex Supervisor Jeremy Nielsen stated "Mitchell's Drake Field is just one of twelve fields that the company can't get installed by Fall 2021."
SprinTurf is a United States Turf Manufacturer, and has prided itself on it's 100% U.S. based supply chain for years. Sprinturf is a National Turf company headquartered in South Carolina with fiber and turf manufacturing facilities in Alabama and Georgia. Sprinturf has been in business since 1998 with over 3,000 installations throughout North America. Sprinturf is the only artificial turf company that uses 100% in-house, American fibers to create fields tailored to each customer. Sprinturf is committed to U.S. investments and jobs with 100 percent of its jobs and investments in the United States.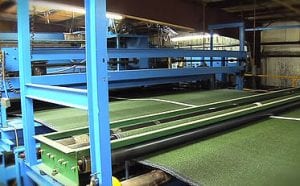 If you'd like to learn more about any of our products or recently completed projects please visit our website at SPRINTURF.com