SPRINTURF MOVES FORWARD WITH MULTI-FIELD PROJECT FOR CHESTERFIELD COUNTY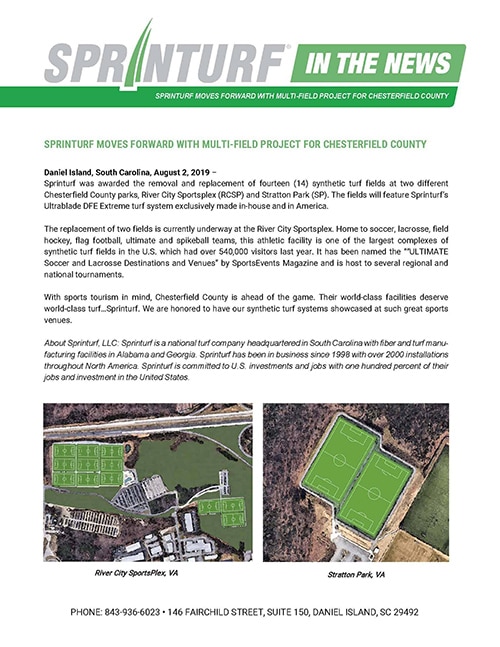 Daniel Island, South Carolina, August 2, 2019 –
Sprinturf was awarded the removal and replacement of fourteen (14) synthetic turf fields at two different Chesterfield County parks, River City Sportsplex (RCSP) and Stratton Park (SP). The fields will feature Sprinturf's Ultrablade DFE Extreme turf system exclusively made in-house and in America.
The replacement of two fields is currently underway at the River City Sportsplex. Home to soccer, lacrosse, field hockey, flag football, ultimate and spikeball teams, this athletic facility is one of the largest complexes of synthetic turf fields in the U.S. which had over 540,000 visitors last year. It has been named the ""ULTIMATE Soccer and Lacrosse Destinations and Venues" by SportsEvents Magazine and is host to several regional and national tournaments.
With sports tourism in mind, Chesterfield County is ahead of the game. Their world-class facilities deserve world-class turf…Sprinturf. We are honored to have our synthetic turf systems showcased at such great sports venues.
About Sprinturf, LLC: Sprinturf is a national turf company headquartered in South Carolina with fiber and turf manufacturing facilities in Alabama and Georgia. Sprinturf has been in business since 1998 with over 2000 installations throughout North America. Sprinturf is committed to U.S. investments and jobs with one hundred percent of their jobs and investment in the United States.