New Cherokee County High School Football Field Installation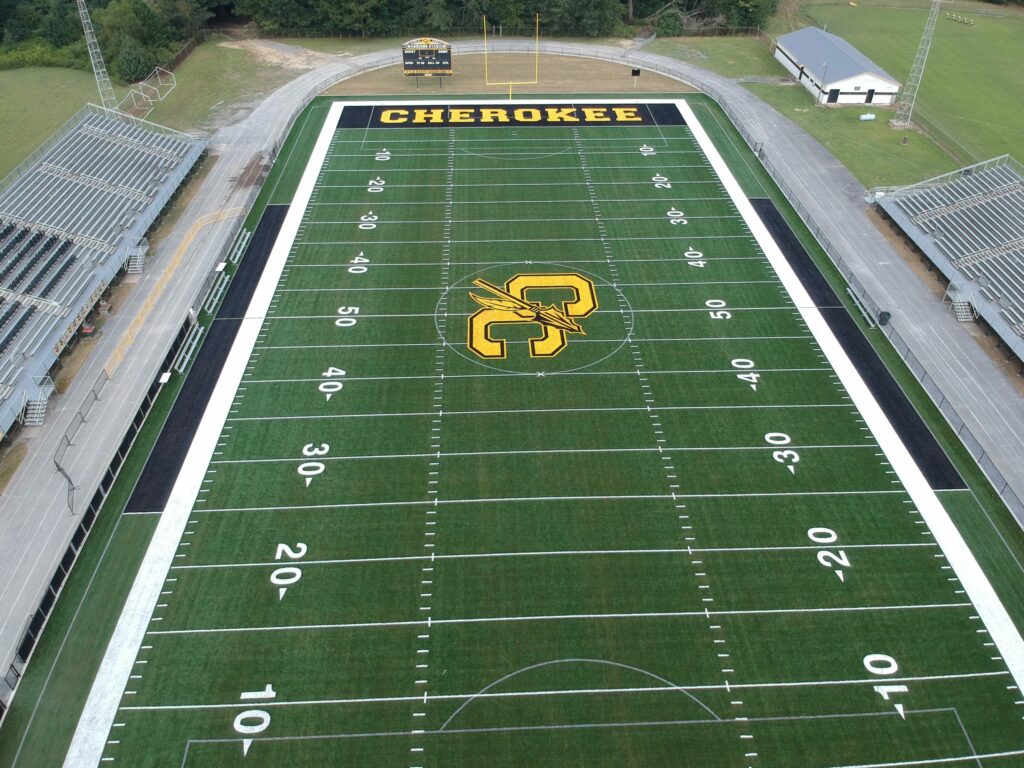 Take a look at the recently completed field at Cherokee High School in Centre, Alabama. One of the biggest features of this project was that SprinTurf included our heat mitigation turf cooling system. This propreitary cooling technology lowers the surface temperature of the turf, it also provides a look and feel that is similar to a natural grass field. With the majority of sports fields receiving direct sunlight it is very important to keep turf temperatures and player safety in mind. This is the reason why SprinTurf  developed our turf cooling system.
Not only does SprinTurf's heat mitigation system provide lower turf temperatures, but it also meets GMax impact requirements without the use of an underlying pad. Meaning you're able to meet player safety/impact requirements without the investment of a shock pad under the turf.
SprinTurf Proudly Installs 100% American Made Turf Fields
Sprinturf is a national turf company headquartered in South Carolina with fiber and turf manufacturing facilities in Alabama and Georgia. Sprinturf has been in business since 1998 with over 2,000 installations throughout North America. Sprinturf is the only artificial turf company that uses 100% American fibers and labor to create fields tailored to each customer. Sprinturf is committed to U.S. investments and jobs with 100 percent of its jobs and investments in the United States.
Media Contact
Marc Belluomini
Vice President, Sales and Marketing
Sprinturf, LLC
mbelluomini@sprinturf.com
559-260-2344